A beautiful Christmas table setting
LET BEAUTY BE THE CENTREPIECE
Christmas is just around the corner and are starting to plan on how to set our Christmas table this year. The Christmas table sets the mood for a magical evening. We gather our family for Christmas and enjoy great food made with dedication and love. In order to enjoy a good meal you need a beautiful table setting, where you can spoil your guests.
There is no perfect way of setting a Christmas table, but there are plenty of options. It is crucial that you think about what kind of mood you want to set for dinner.
Do you prefer a traditional table with shades of red and green? Maybe you want to create a fairytale atmosphere in vinter colours? Or are you going for a nordic and natural? There are countless themes and settings. Here you can get inspired by a beautiful GreenGate Christmas table setting.  
Christmas is the season of traditions and it makes sense to pick red and green as your primary colours for your Christmas table.  
Add a hint of luxury to your traditional setting by decorating the table with golden elements like candles, wine glasses and cutlery.
Start with one of our linen unicolour tablecloths, since it creates a pretty contrast to the classic floral GreenGate set, and take it from there. If you mix tableware styles, the expression quickly becomes informal. We therefore advise you to set the table with uniform elements, where water glasses and cutlery are plain, and other parts like plates, vases and decoration catch the eye and can shine.
Tie the cutlery with a handsome ribbon and add a decorative touch to your plate. Finish with matching linen napkins wrapped around cones or Christmas ball, or put them in a napkin ring in order to create a harmonic overall impression.
NATURE IS THE MOST INSPIRING MUSE
Explore nature and get inspired. You can combine pine and spruce branches and decorate them with pretty flowers or vinter berries. That is not only beautiful, but also carries the scent of Christmas.
Fresh pine branches are the pefect decoration for a Christmas table, but dried flowers and other branches are just as lovely and give your table a fresh and natural expression. Tip: Garnish a wreath with Christmas balls and use them as a centerpiece on your Christmas table.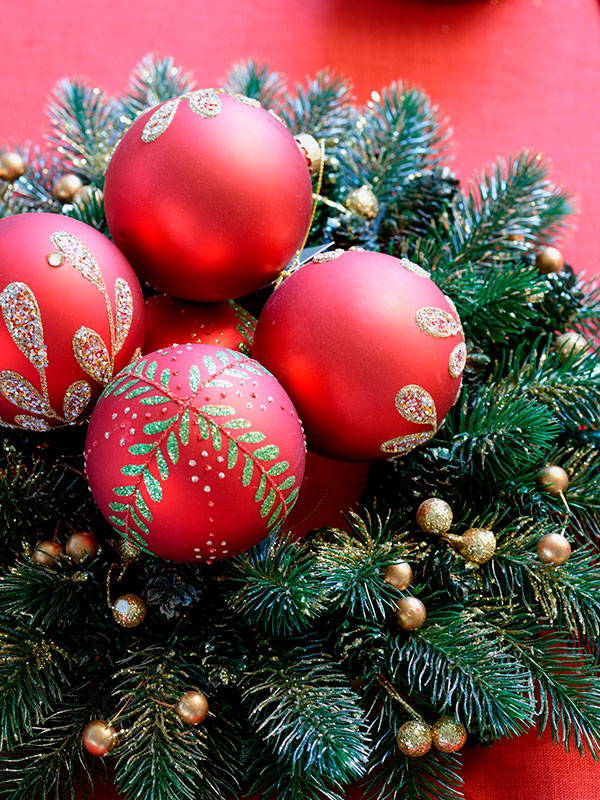 ---
Christmas is the holiday of light. We have put candles in our elegant candle holders and placed them in the middle along the dinner table.
You can decorate your Christmas table with candles in different shapes and sizes. They elevate the mood and add layers to the table setting.We have picked twisted and Christmas tree shaped candles that fit perfectly with the other golden elements.