One of the first designs in the history of GreenGates
Marie is one of the very first designs in the history of GreenGate. The first stoneware was introduced in our catalogue in 2005 and contained two new latte cups, Selma and Marie. These two designs are to this day still some of the most popular and sought after and we continue to receive inquiries about reintroducing them to our current collections. Marie has since then been back in several new colours. The last few years we have had Marie white, Marie pale pink and pale blue, as well as Marie grey and pale grey. This Fall, we have designed two new beautiful versions that are very trendy, Marie dusty rose and Marie peach.
Like all other GreenGate designs, Marie was created by taking inspiration from our unique archives of French tapestry books dating back to the 19th century. At the start of each collection, our design team goes through these old books, carefully choosing the very best designs that fit the trends of the coming season. This is also exactly what they did 16 years ago, when Marie was created. At that time, they found pattern number 13185. The beautiful rose bouquets of the pattern were enhanced, modified and developed with new colourways to become the design we know today. However, no one had imagined that Marie was to become one of the most iconic designs in GreenGate history.
Marie is the epitome of everything that GreenGate stands for. Marie equals togetherness, a cozy atmosphere, positive feelings and nostalgia. She is the loyal friend, who is always there for you and ready to make you smile.
The new Fall colour, dusty rose, is both romantic and stylish. The colour can be seen many places on the interior and fashion scene. The new design comes in two versions, Marie dusty rose with the large classic flower bouquets on a white or pink background, as well as Marie petit, which is with a small flower pattern with simple stems on a white background. Both designs contain notes of green and peach and can beautifully be combined with our Everyday collection – especially Alice dusty green and the new Alice dusty rose.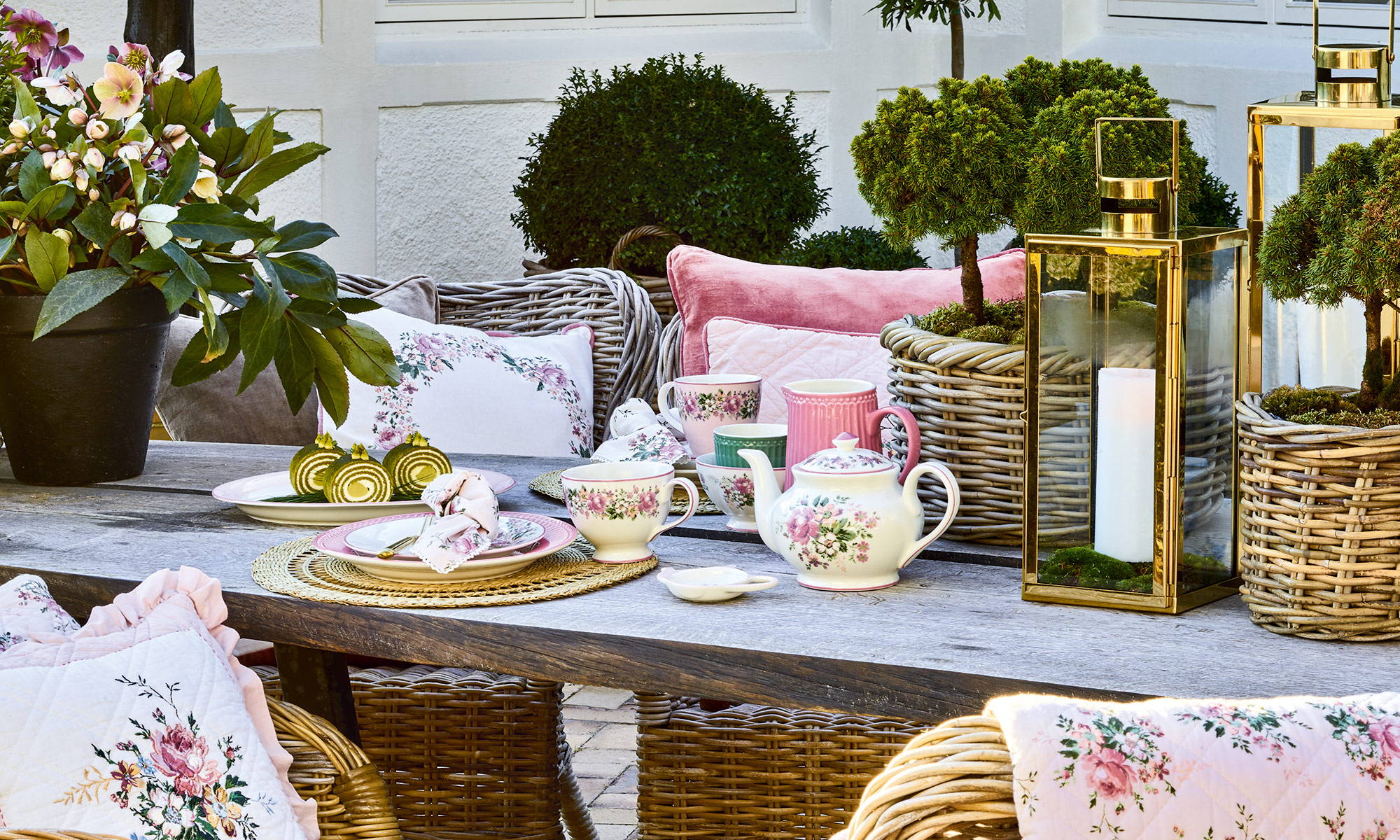 ---
In the Marie collection, there is of course a wide variety of our classic stoneware products as well as textiles and accessories. You will find latte cups, teacups, mugs and of course a matching teapot. For your table setting, we also have beautiful tablecloths, runners and matching tea towels, cotton napkins with florals and lovely stripes to match Marie. New this season is an elegant oval serving tray made in stoneware. We even have a special rug for beneath your Christmas tree, if you can't get enough of this beautiful design.
---
---