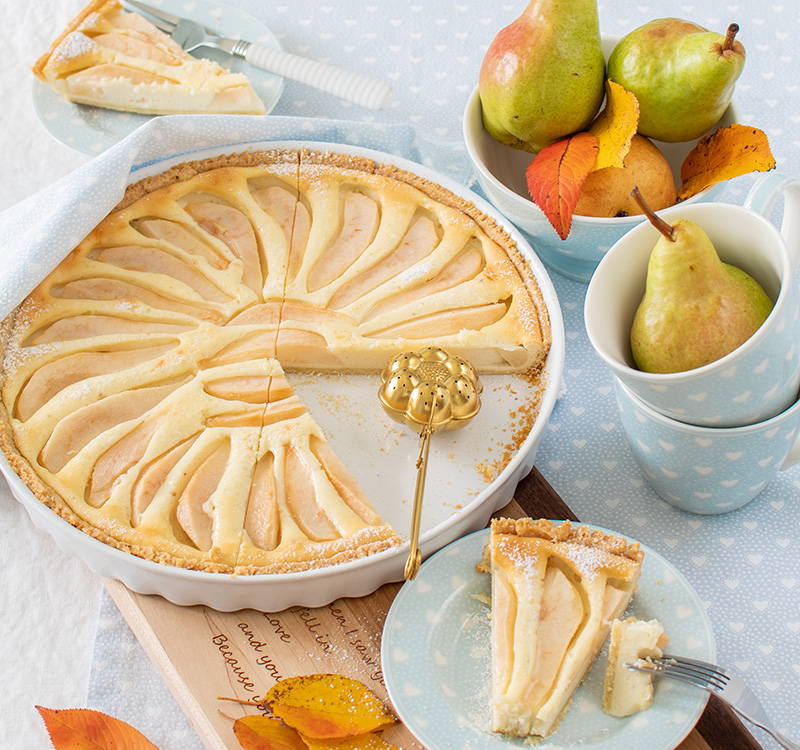 Pies simply are a real autumn treat. Even though it is the season of ripe apples, we must not forget about delicious pears. Pears are the most important ingredient in one of our seasonal fruit pie favourites.  
Our juicy pear pie is easy and quick to bake. Contrary to a classic pie, our pear pie is soft - and we love it. The cream cheese filling is similar to a cheesecake texture, which matches well with the the crumbly, buttery crust.
Serve the piewarm with a side of creme fraiche, whipped cream or a good vanilla ice cream. If it is that time of day, enjoy the pie with a hot cup of coffee or tea.
Enjoy!
Dough
250 g wheat flour

125 g unsalted butter (cold)

1 egg

50 g sugar

1 tsp vanilla sugar

a dash of salt

Filling
200 g cream cheese

100 g mascarpone

2 eggs

80 g sugar

40 g maize starch

2 tsp vanilla sugar

3-4 pears

a dash of cinnamon
Tin with a diameter of 26-28 cm
Directions
Preheat your oven to 175 °C.
Sift the flour in a bowl and mix with sugar and salt.
Crumble the butter into the flour mix until it reaches a sandy texture.
Add egg and vanilla sugar. Knead it all together until you have an even dough.
Roll the dough into a ball and press it flat. Put them in the fridge for approx. 30 minutes.
Whip the cream cheese, mascarpone and egg together in a bowl until the mix is even and creamy.
Stir in sugar, maize starch, vanilla sugar and cinnamon and put it aside.
Roll ou the pie dough between two pieces of flour covered baking paper and carefully place the dough in a buttered pie tin. If you are using a springform pan, form a crust to approx. 2 cm.

Pour the cream cheese mix into the tin on top of the pie dough.

Peel the pears, cut them into slices and remove the core. Spread them evenly on the creamcheese filling.

Bake for approx. 45 minutes until the filling is hardened and the pears are soft.

Let the pie cool off before you serve it.
Tip: If you have any leftover pie dough, you can make cookies with it. Roll the leftover dough and cut it into 1 cm thick slices. Bake the slices together with the pie for approx. 10 minutes.
---