Easy, fluffy, and delicious scones


It is cold outside and it is time to get comfortable at home.. The cozy season has begun!
We at GreenGate appreciate the old English traditional "afternoon tea" and we are convinced that everybody should invite their friends for a cozy tea ceremony.
Besides the typical cucumber sandwiches and a good brew, crumbly and golden brown scones are an essential part of the afternoon tea. We prefer our scones with loads of strawberry jam and clotted cream.
We have many talented bakers at GreenGate and each and everyone has their favourite recipe. After a thorough (and tasty) test, we came up with - what we think - is the best recipe for scones.
450 g wheat flour
2 tpsp baking powder
2 tpsp sugar
1 tsp salt

1 egg
120 g unsaltet butter
3 dl whole milk
round cookie cutter (if applicable)


Directions
Sift flour, baking powder, sugar, and salt in a bowl.

Cut the butter into small cubes and mix with the flour mix.

Crumble the butter with your fingertips and mix with the flour until it has a sandy texture.  

Whip the egg and milk together, and carefully pour a 3/4 part into the flour bowl. Safe the rest for brushing later on.  

Carefully stir the milk in the flour until they form a sticky dough. If the dough is too dry, add some of the leftover milk.

Put the dough on a floured surface. Roll the dough carefully into a ball. Try not to add too mucg flour and do not knead the dough to avoid a hard and heavy texture.

Carefully press the dough ball down until it is flat and approx. 3 cm thick. Avoid using a rolling pin, since it would damage the doughs texture.

Use a cookie cutter or a glass to cut out your scones, and put them on a baking tray covered with baking paper. Try to cut as many scones out as possible. The first ones are always the best and the most fluffy.

Carefully collect the leftover dough. Shape the dough into a ball and repeat.

Preheat the oven to 190 °C. Brush the top of the scones with the leftover milk and egg mix (if you have used all of it, whip an egg yolk together with some milk to make more). Let the brushed scones sit until the oven is heated.

Bake for 15 -18 minutes until the top is golden brown.
---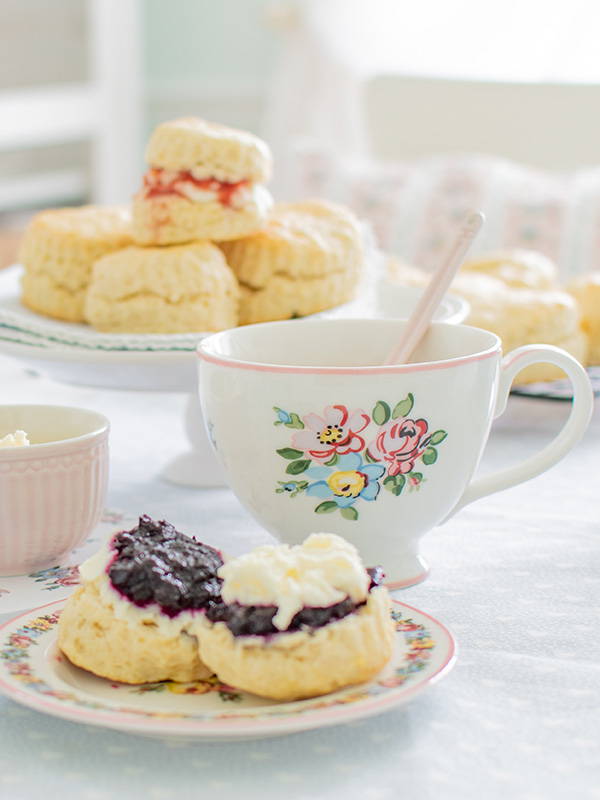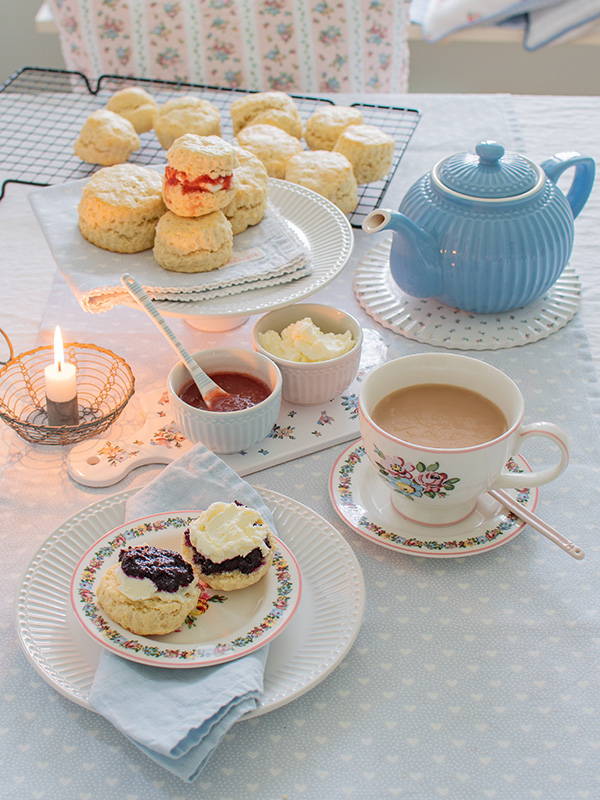 ---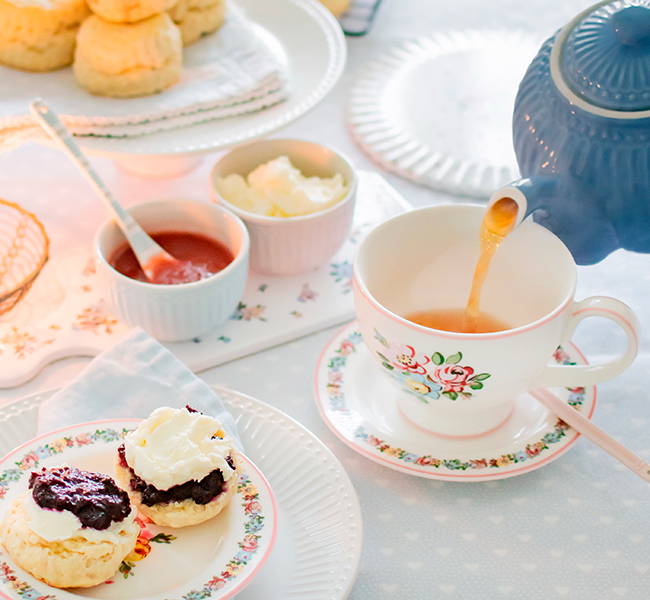 ---