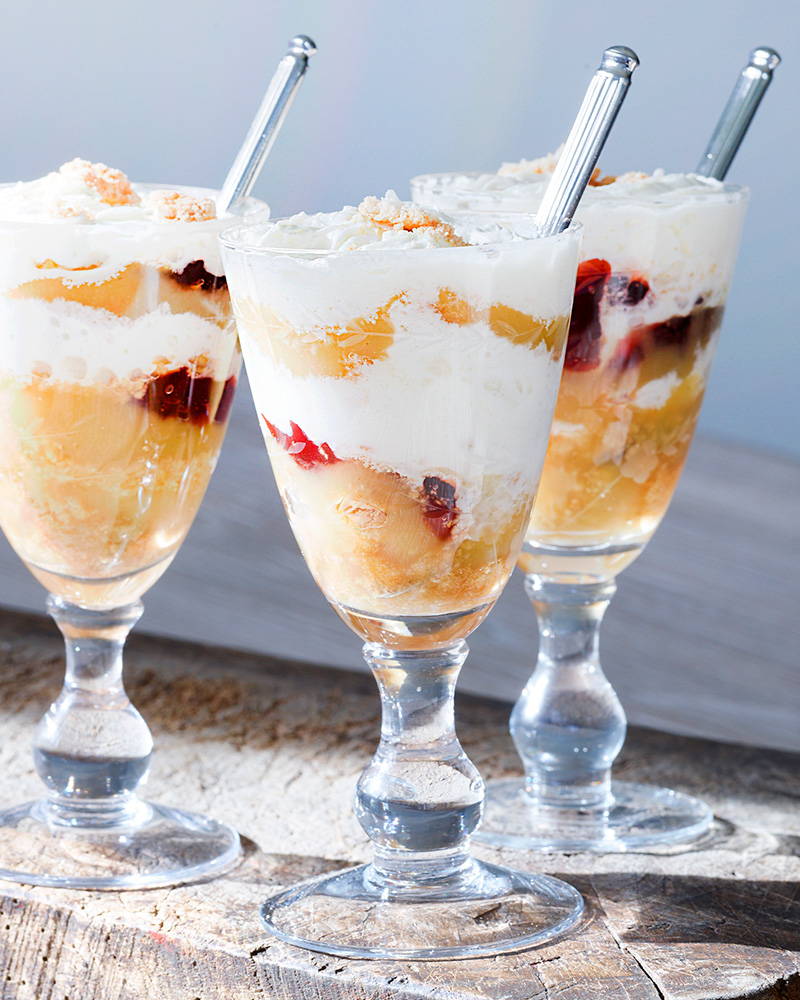 The apple season has undoubtedly begun. Now that the leaves on the trees change their colour, the ripe apples are ready to be harvested. If we had to pick between all the amazing apple desserts, we would say that a traditional apple cake is one of the most nostalgic desserts in the autumn season.  
There are uncountable ways to make a traditional apple cake, and even more recipes for rasp. Here is our recipe for a classic and delicious apple cake with macaroon rasp that offers a harmonic mix of sour, sweet, crunchy and soft.
You can either present the cake in a beautiful bowl or in an elegant wine glass as we did. This way every delicious layer is done justice.

Enjoy!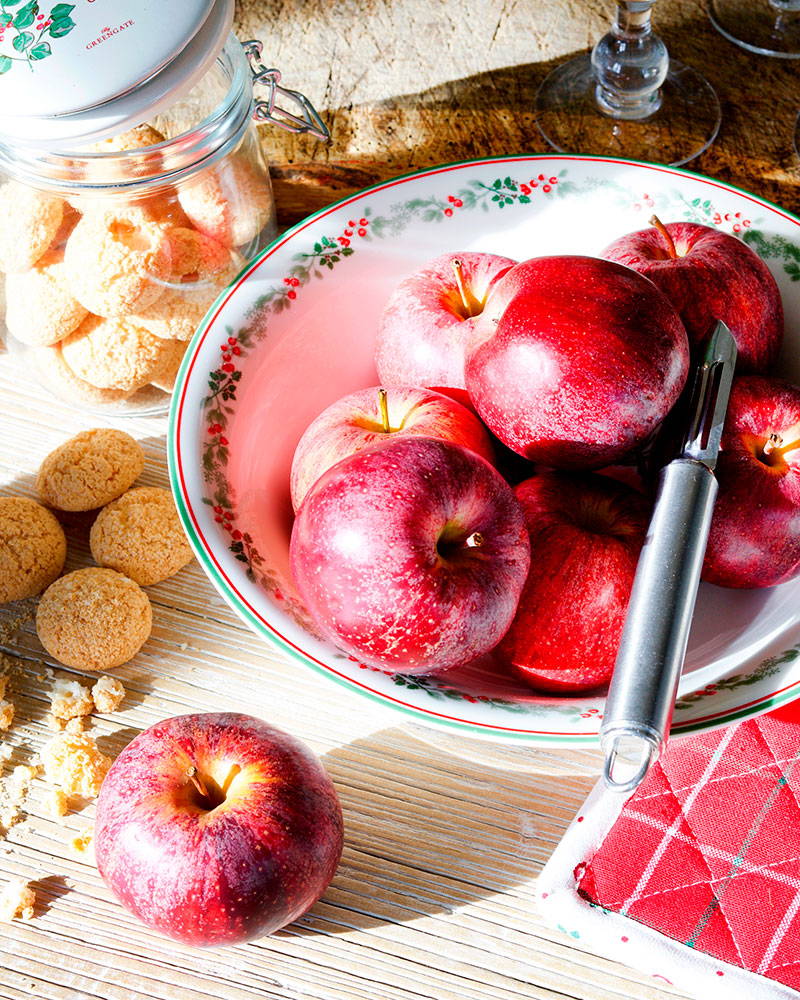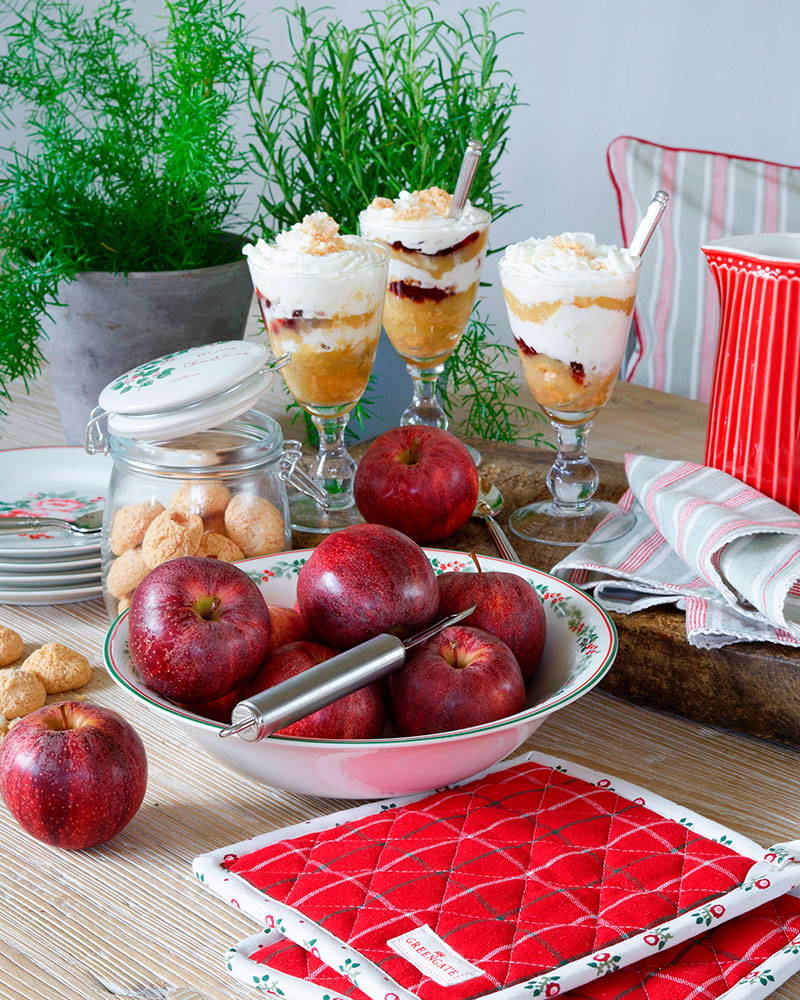 ---
Apple sauce
800 g apples

120 g sugar

½ vanilla pod

a dash of cinnamon

1 dl water



Makaroon rasp
100 g rasp

300 g macaroons

20 g sugar

1 tpsp butter for roasting
Serving
Directions
Apple sauce
Peel the apples and cut them into smaller pieces.

Scrape the seeds out of the vanilla pod and mix them with a bit of the sugar.

Combine the apples with water, sugar and the vanilla seeds. Bring to a boil and let it simmer without lit for 10-15 minutes. Stir occasionally.

Put the sauce in the fridge and let it cool off.
Macaroon rasp
Melt the butter on a pan.

Add rasp and sugar with constant stirring until the sugar is melted.

Let it cool off on a piece of baking paper.

Crush the macaroons and mix them with the rasp.  
Serving
Whip the cream until it is fluffy.

Fill the chilled apple sauce in a glass. Add a layer of macaroon rasp on top.

 

Put the whipped cream on top. Add red currant jelly depending on your taste.
Tip: The apple cake tastes best if you choose cultivars like Ingrid Marie, Filippa or Elstar apples. They have just the right texture and add a hint of sourness to the dessert. If you have some remaining apple sauce, use it as topping on your cereals, pancakes, or breakfast porridge.  
---
---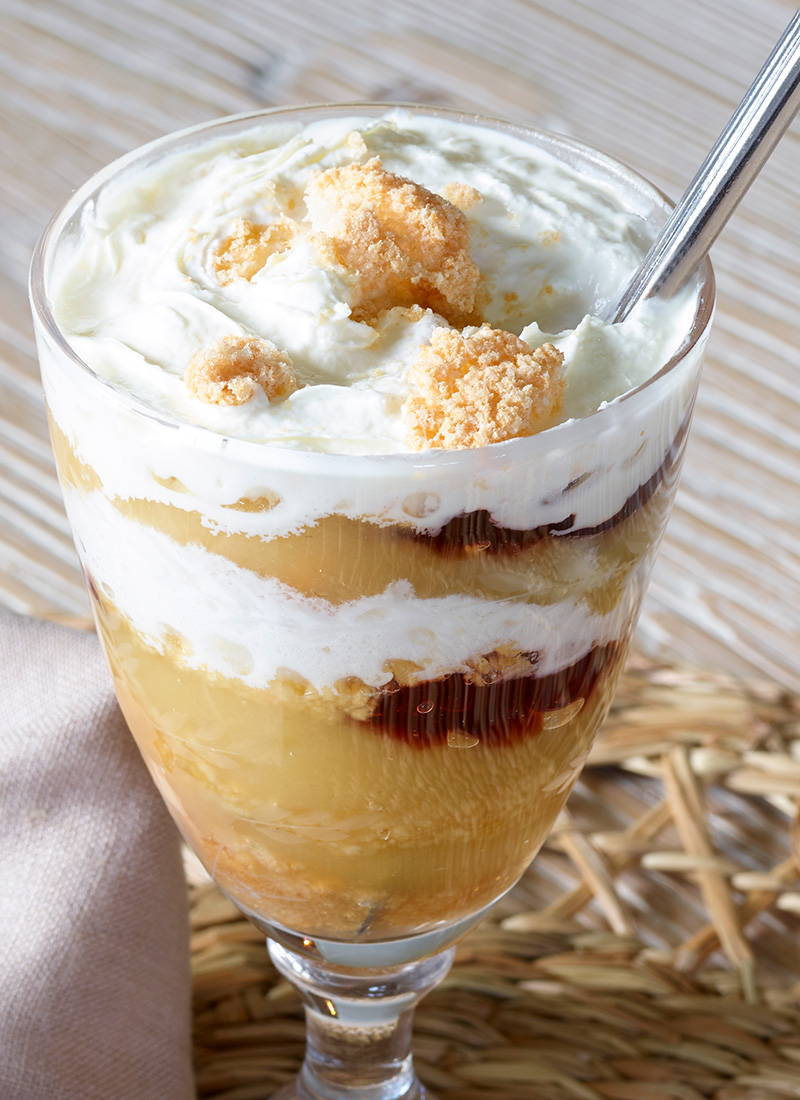 ---