Crispy, spicy and homemade


The countdown til Christmas has begun. Christmas is just around the corner and like everyone else we at GreenGate have started baking Christmas cookies.
If there is anything that recalls Christmas memories it is the smell of homemade, old-fashioned cookies. Pepper nuts in particular are a must-have in every Christmas season and Christmas without them is unthinkable in Danish homes.
Homemade pepper nuts are super easy to make, and most have the few necessary ingredients at home - so why not make them yourself? Christmas baking is not just about baking, but also about family time. The whole family can participate and if you have children they will surely appreciate the raw, sweet pepper nut dough that simply tastes amazing.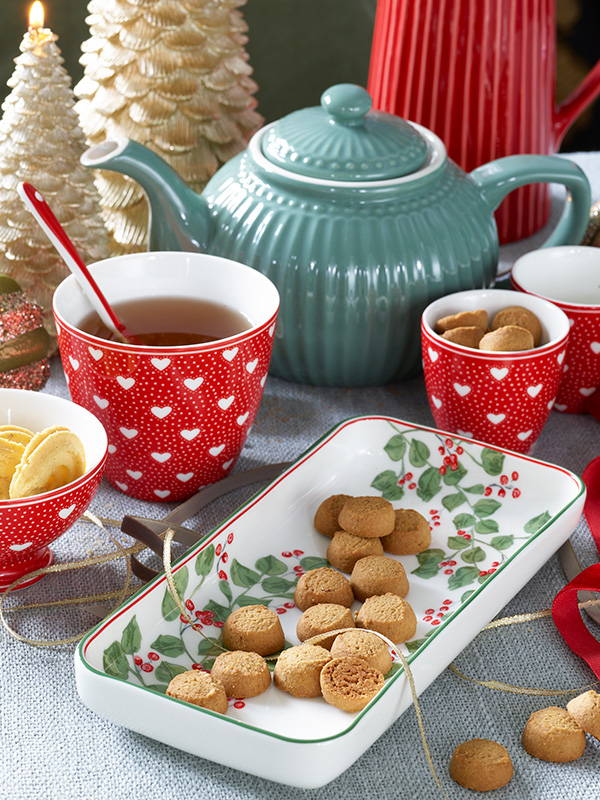 AN OLD TRADITION
Baking pepper nuts is a very old tradition in Denmark.
It dates back to the 1400s and pepper nuts were called pepper cakes back then. It was not until the 1700s that they became the special Christmas pastry as we know it today.

It is not a coincidence that we eat pepper nuts at Christmas.
Back in the day people baked both bread and pepper nuts in the Christmas season. It was a part of the Christmas tradition to bake both big and fine bread out of sifted flour and wheat flour. Wheat flour was considered cake back then. A little bit of honey and spices were added and the dough was rolled and cut into small pepper nuts.
Since spices were quite expensive back then, they were only used in the Christmas period. So it came naturally to put spices in the dough and that is how most Christmas cookies as we know them today came into existence.
---
---
125 g soft butter at room temperature
125 g sugar
1⁄2 dl whipped cream
280 g wheat flour
1⁄2 tsp baking powder
1⁄2 tsp baking soda
1⁄2 tsp ginger, finely grated
1⁄2 tsp cinnamon
1⁄2 tsp powdered cardamon
1⁄2 tsp black pepper, freshly gounded
1 tsp finely grated orangepeel (ecological)


Directions
Whip butter and sugar in a bowl.

Add whipped cream and continue whipping.

Mix wheat flour with the dry ingredients (all spices) and orangepeel in a separat bowl.

Sift the flour mix into the bowl with the butter mix.

Knead the dough thoroughly until the dough is solid and easy to shape.

Divide the dough into approx. 6 pieces and roll them into long sausages measuring approx. 1x1 cm.

Then form the sausages into small balls and place them on a baking tray covered with baking paper.

Bake at 175 °C for about 7-10 minutes until they are turning golden brown on the edges.

Let the pepper nuts cool off on a grate and store them in an airtight cookie jar.
---
ALT DET DU SKAL BRUGE TIL DIT JULEBAG
---
---