Søde boller med abrikos fyld
SWEET ROLLS WITH APRICOT JAM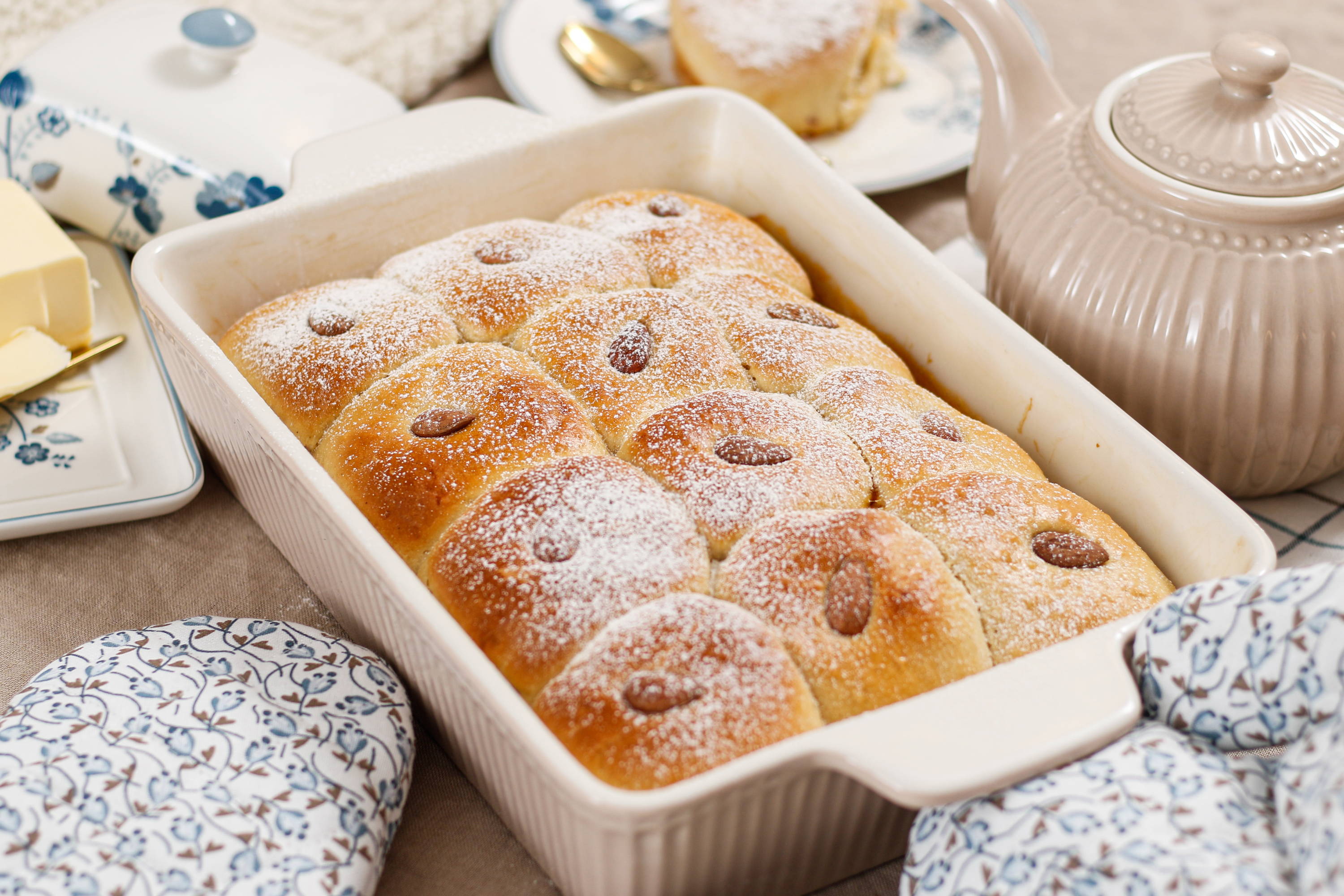 As the smell of these sweet buns' aroma fills your home, your family will surely gather in the kitchen. But they need to be patient because perfection takes time and is worth waiting for. These small, sweet buns with apricot filling are the perfect afternoon snack on a Sunday, where time can stand still for just a moment.
---
SWEET ROLLS WITH APRICOT JAM
Dough:
25 g fresh yeast
2 tbsp honey
120 g soft butter
250 ml milk, lukewarm
3 eggs
50 g raw cane sugar
1/2 organic lemon, zest
1/4 teaspoon vanilla, ground
1 pinch of salt
450-500 g light spelled flour
Filling & Coating:
Apricot jam
A little butter for the baking dish
1 egg yolk + 2 tbsp milk for brushing
A few almonds for topping
Icing sugar for sprinkling
Preparation:
Crumble the yeast and stir in the honey and milk until smooth.


Put all the ingredients for the dough in a large mixing bowl and knead with the dough hook of the food processor for 5 minutes to form a smooth dough. If necessary, knead again with your hands on a lightly floured work surface. Cover and let rest in a warm place for approx. 40 minutes.


Butter a large baking dish.


Place the dough on the work surface and divide it into about 12-15 pieces and flatten it a little. Put a teaspoon of apricot jam in each piece of dough and seal.


Place the sweet rolls in the baking pan with the dough seam facing down. Cover and let rise for another 30 minutes.


Preheat the oven to 160 ° C hot air. Mix egg yolks with milk and brush the sweet rolls with them. Top with one almond each.


Bake in the oven for 20 minutes until golden brown. Sprinkle with icing sugar before serving.



 
---
---