Brioche boller med vanilje creme
VANILLA CREAM CHEESE BRIOCHE WITH APRICOT JAM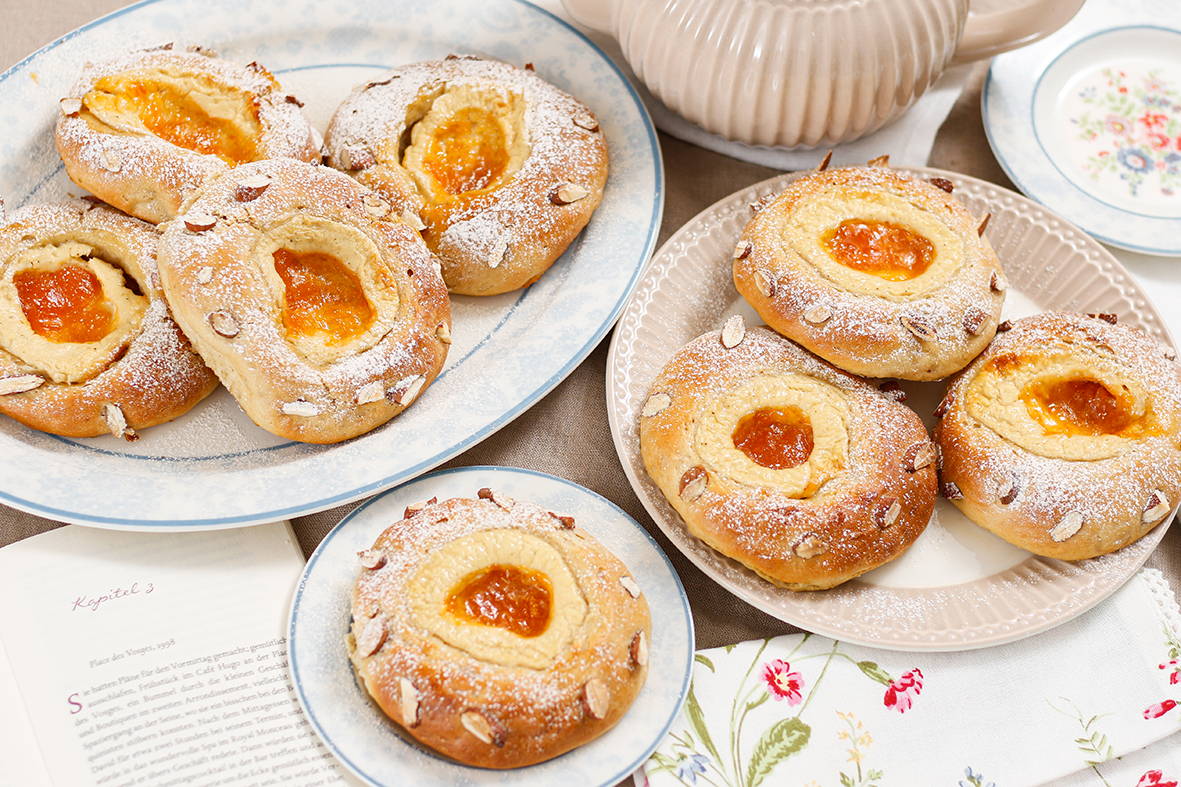 Warm, soft and tasty, these cream cheese brioche buns are a delightful mouthful that will thrill your family and friends.
The subtle tastes and varied sweetness of these delightful brioche buns are undeniably scrumptious and worth your time.
If you are ready for a baking adventure, we suggest you try them – you won't regret it!
---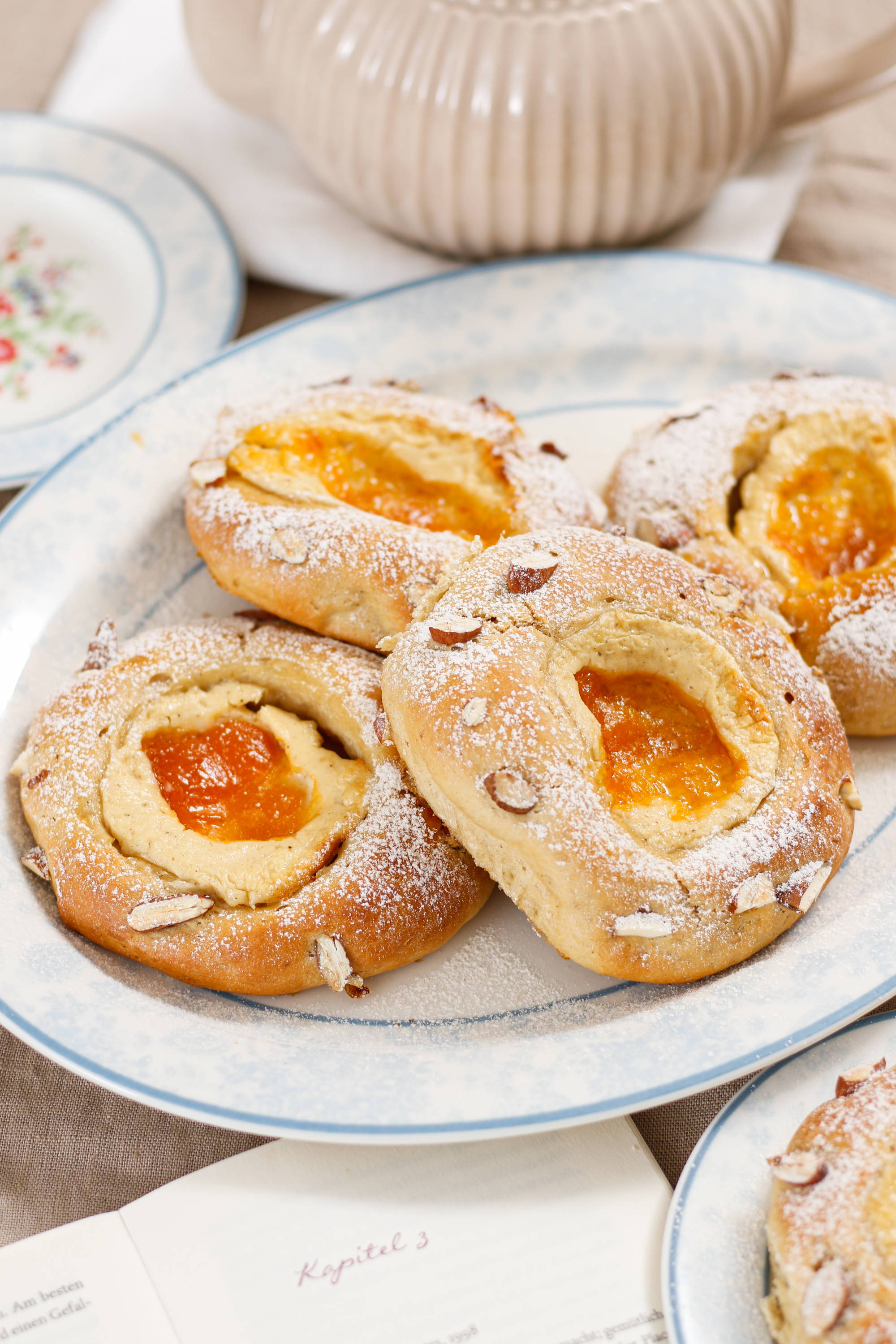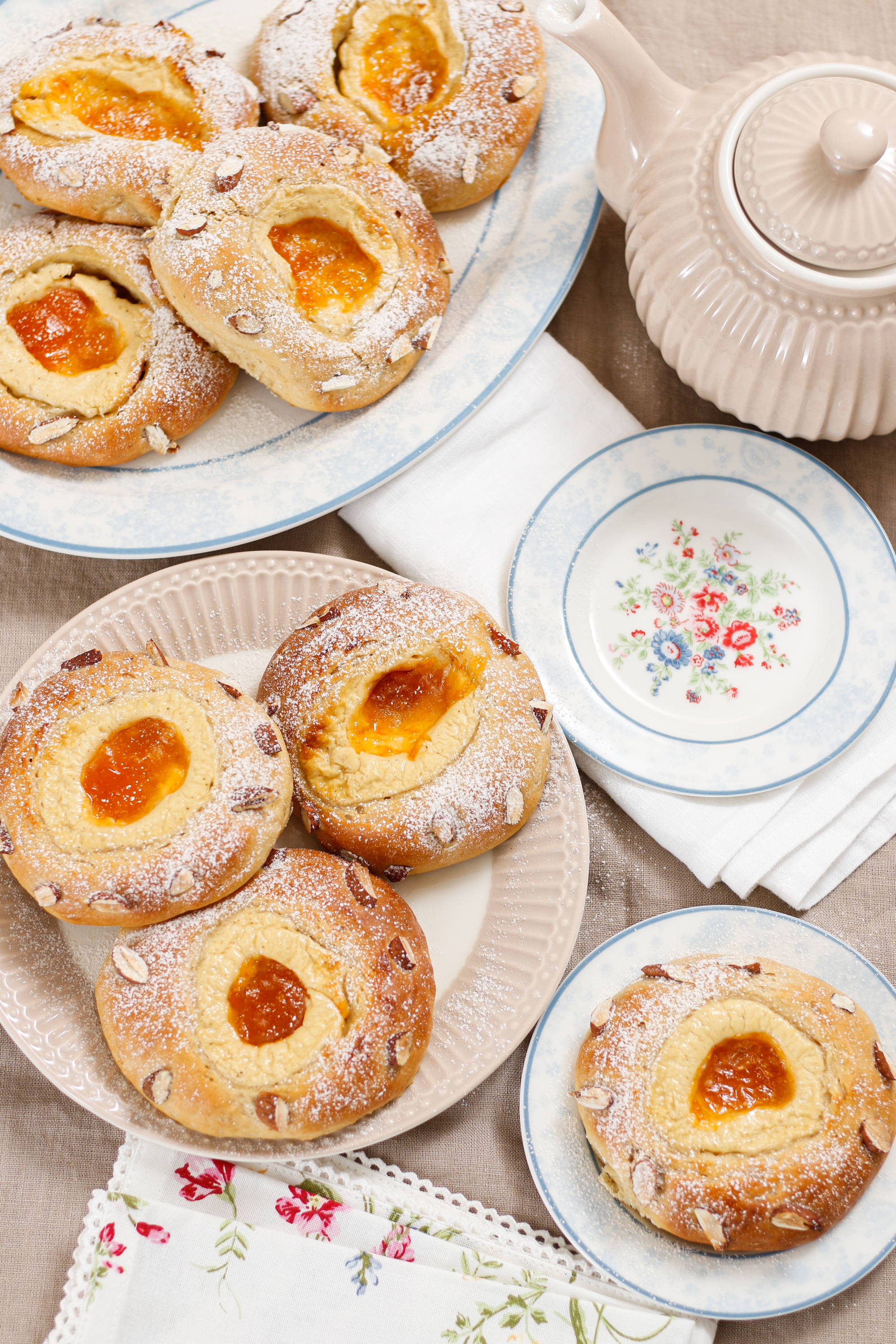 BRIOCHE BOLLER MED VANILJE CREME OG ABRIKOS MARMELADE

Ingredienser
(makes about 12-14 pieces):

For the dough:
500 g spelled flour, plus a little more
250 ml lukewarm oat milk or organic whole milk
1/2 cube of yeast
50 g of raw cane sugar
1/4 tsp bourbon vanilla
1 pinch of salt
50 grams of softened butter
1 organic egg
For the filling:
400 grams of cream cheese
1 organic egg
2 teaspoons vanilla custard powder
1/4 tsp bourbon vanilla
1 organic lemon, just the zest
50 g of raw cane sugar
1/2 jar of apricot jam


In addition:
Some oat milk for brushing
A few almonds for sprinkling


Preparation

Put all the ingredients for the dough in a mixing bowl and knead into a smooth dough with the dough hook of a food processor - preferably for about 5 minutes on the lowest setting.


Cover and let the dough rise for about 45 minutes.


For the filling, mix all the ingredients (except for the jam) together.


Place the dough on a lightly floured work surface and shape into a roll. Divide into about 12-14 equal pieces. Shape the pieces into rounds and press flat. Place the thalers on two baking trays lined with baking paper. Using moistened fingers, make a large well in the center of each piece of dough (so there is enough space for the filling).


It is best to fill the curd mixture into a piping bag and distribute it in the hollows, alternatively add it with a teaspoon. Put 1 teaspoon apricot jam on top.


Let the pieces rise again for about 15 minutes. Preheat the oven to 180°C hot air.


Brush the edge of the brioche pieces with a little milk and press in the chopped almonds.


Bake the brioche pieces in a hot oven for 22-25 minutes until golden brown.


Allow to cool slightly and dust with a little icing sugar if you like.
Enjoy
---
---
---