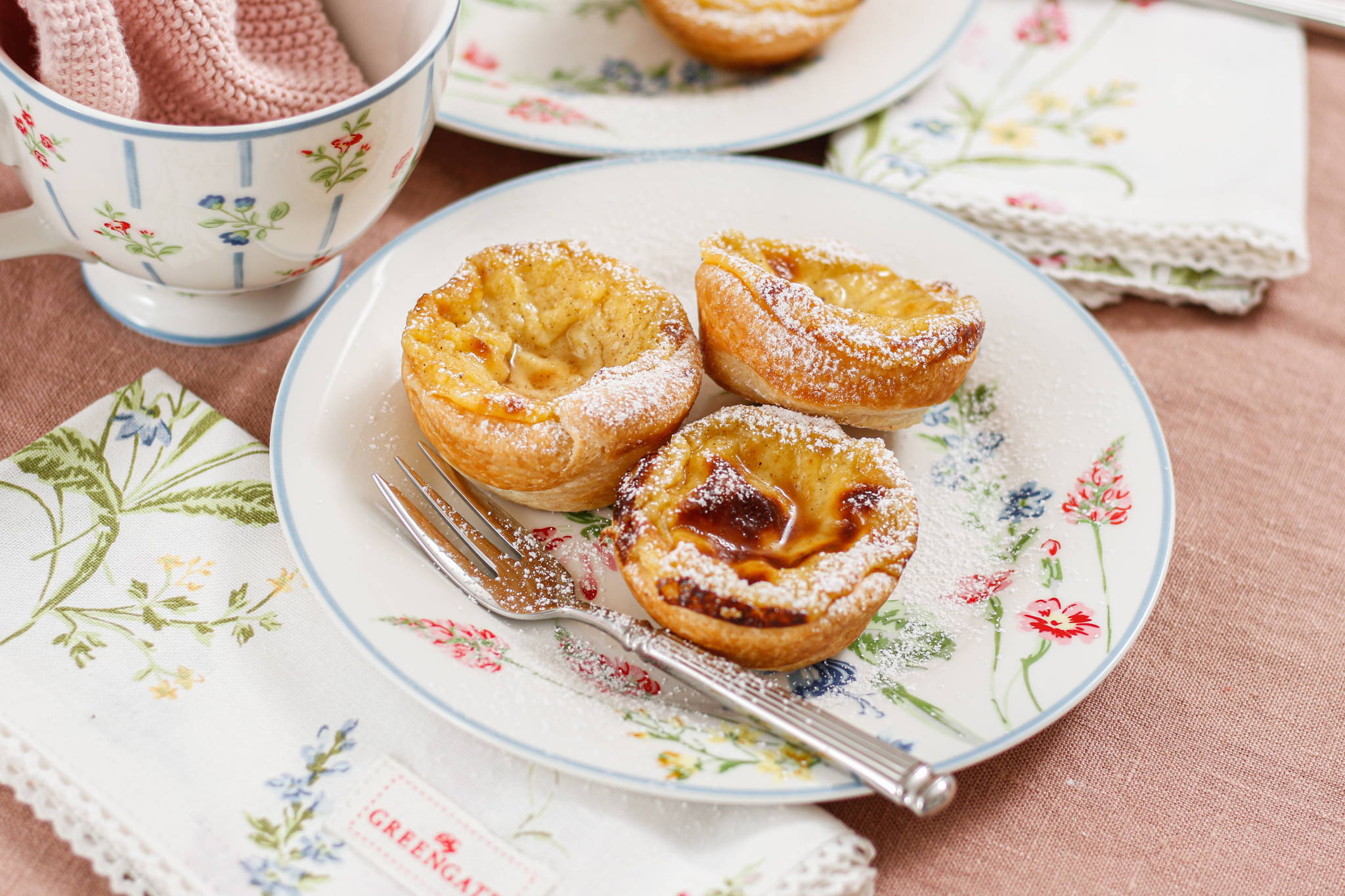 In the 18th century, Pastéis de Nata were created in the suburb Belém of Lisbon. Pastéis de Nata are small pudding pastries made with egg yolk, sugar, milk and starch.
The Portuguese pastries have their origin in the Mosteiro dos Jerónimos monastery. It is said that at that time egg whites were used to starch clothes and people were looking for ways to use the remaining yolk. This is how sweet baked goods came into being in many places.
If you desire a culinary excursion to Portugal, you are welcome to try our recipe today.
---
---

Ingredients
• 1 roll of puff pastry 
• 1 organic egg yolk 
• 80 g of raw cane sugar 
• 2 tablespoons cornstarch 
• 400 ml organic whole milk or oat milk 
• 1/3 tsp bourbon vanilla, ground 
• 1/2 organic lemon, zest 
• some icing sugar + cinnamon for dusting 
• Butter for greasing muffin cups 
Preparation
1. For the filling, mix the egg yolk with sugar, vanilla, organic lemon zest and cornflour in a saucepan with a whisk. Gradually add the milk and mix well and until smooth. 
2. Place the pot on the stove and heat over a low to medium heat while stirring constantly until the mixture thickens like a pudding and starts to bubble a little. Remove from the heat and set aside, stirring occasionally to avoid a skin forming. 
3. Grease the wells of a muffin pan with butter. Preheat the oven to 180°C hot air. 
4. Unroll the puff pastry roll. Then fold it once (from the right or left). Now two layers of dough are exactly on top of each other. Now roll up tightly from the short side. 
5. Cut the resulting roll of dough into 12 equal slices with a sharp knife. It is best to flatten each disc with a glass with a large glass bottom so that the diameter of the disc is slightly larger than the muffin cups (if it sticks, sprinkle some flour on the discs). 
6. Put the resulting discs of dough into the muffin tin so that the edges of the molds are also covered. Press down lightly with your hands. Do the same with the remaining pieces of dough. 
7. Fill each with 3 teaspoons of the vanilla cream and bake the muffin tin in the oven for about 20-25 minutes until golden brown. After baking with a lift the cakes out right away!! and let cool. 
8. Sprinkle with cinnamon and powdered sugar and serve with fresh strawberries if you like. 
---
---
---