Raspberry panna cotta with pomegranates and heart biscuits

RASPBERRY PANNA COTTA WITH POMEGRANATES AND HEART BISCUITS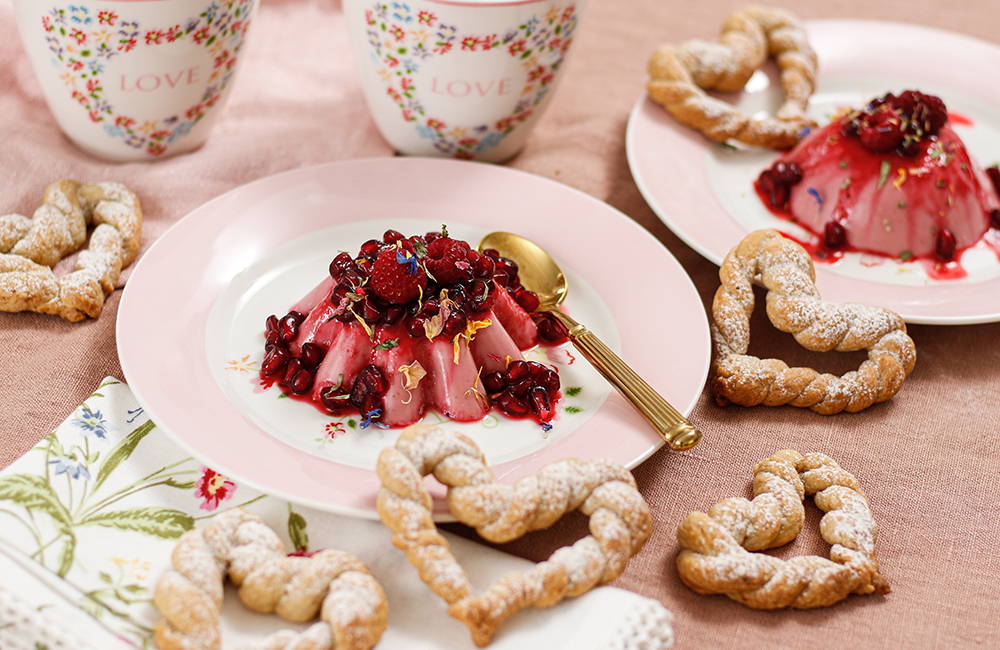 Cooking starts with love. This beautiful and delicious dessert is like floating love on a plate that will enchant you bite by bite. Its aesthetic look is a joy for the eyes, and it tastes heavenly with its combination of creamy panna cotta and crunchy heart-shaped cookies.
Refined with raspberry and homemade biscuits of spelt flour, twisted with love and care, making this dessert one of the kind – just to fall in love with.
---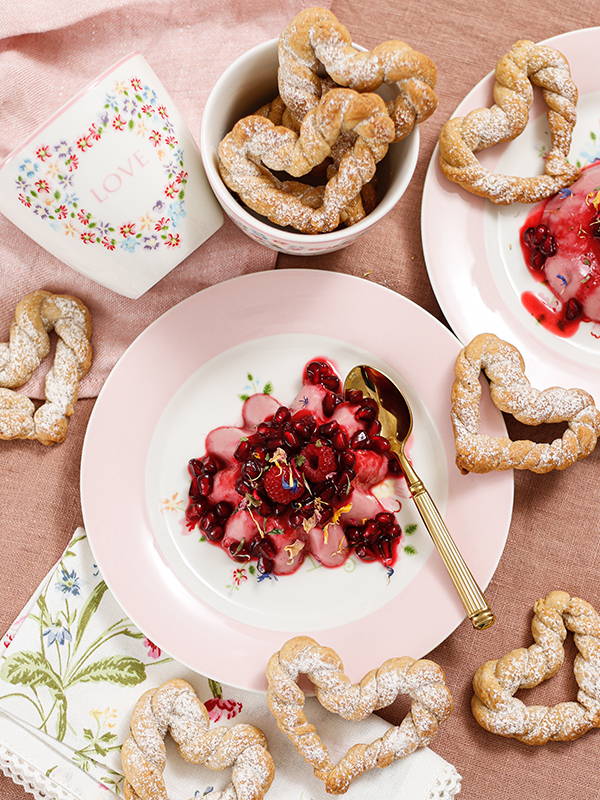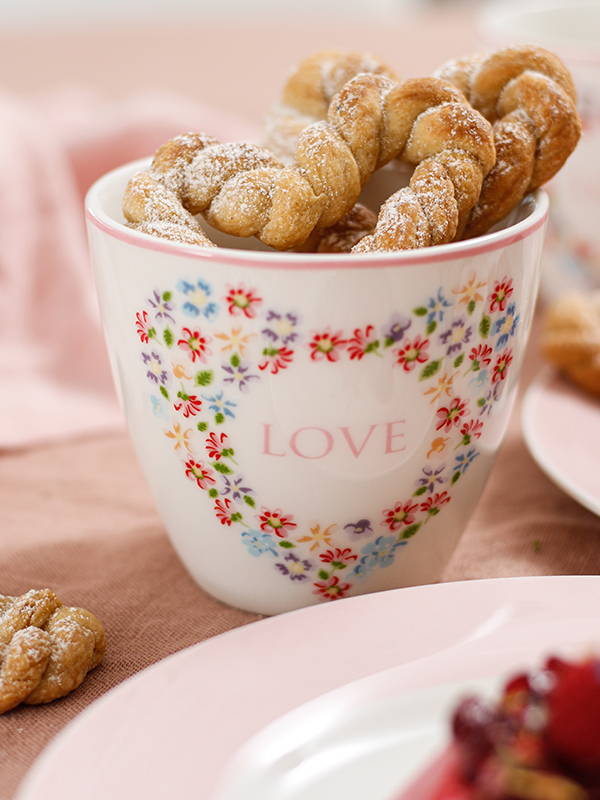 RASPBERRY PANNA COTTA WITH POMEGRANATES AND HEART BISCUITS


Ingredients
Panna Cotta (6 servings)
250g raspberries, frozen
½ pomegranate
1 blood orange or orange
500g of whipped cream
¼ tsp bourbon vanilla
4-5 tbsp raw cane sugar
5 teaspoons agar agar (or 5 sheets of gelatine)
Biscuits (12 pieces)
150g spelled flour
100g cream cheese
100g of butter
2 tablespoons raw cane sugar
1 pinch of salt
1 pinch of vanilla

Preparation
Panna cotta
For the panna cotta, heat the raspberries in a saucepan and mix with the freshly squeezed orange juice. Push the raspberries through a sieve so that we have a fine raspberry puree.

Carefully remove the seeds from the pomegranate, catching the juice or slightly squeezing out part of the pomegranate. Add the juice from the pomegranate to the raspberry sauce. Stir together the pomegranate seeds with 2 tablespoons of the raspberry puree and some sugar and set aside for later.

Put the whipped cream in a saucepan, mix with the raspberry puree, vanilla and sugar. Mix the agar agar with 2 tablespoons of liquid (whipped cream or milk) separately and then add to the saucepan with the raspberry whipped cream. Bring to the boil while stirring and simmer gently for 2-3 minutes.

Pour the mixture into 6 glasses or cups and refrigerate for at least 4 hours.
Heart biscuits
Knead all the ingredients for the biscuits into a dough. Shape the dough into a roll on a lightly floured work surface and divide into 12 pieces. Using your hands, roll the pieces into thin strands (about 35cm long). Halve the strand of dough in the middle and then twist the two strands together. Shape the twisted strand of dough into a heart and place on a baking tray lined with baking paper.

Preheat the oven to 180°C and bake the hearts for 25 minutes until golden brown.

Allow to cool and dust with icing sugar.

Pour the panna cotta out of the glasses or cups. This is easier if you put the glasses in a little warm water beforehand and loosen the edges slightly with a butter knife. Serve the panna cotta with the pomegranate and raspberry sauce and the biscuits.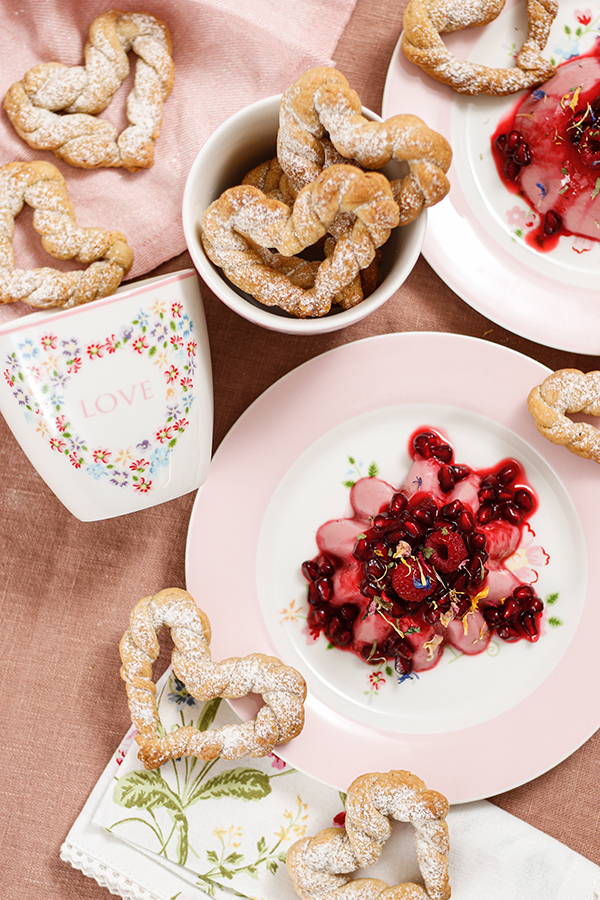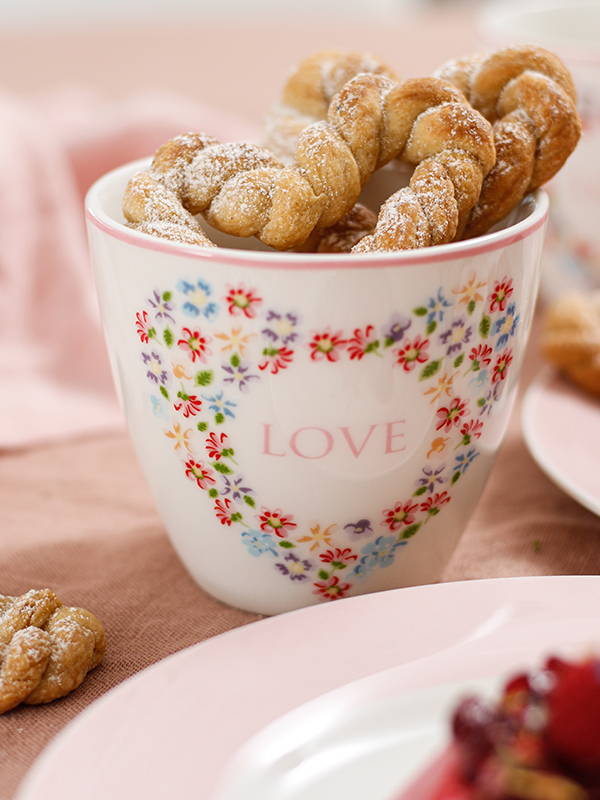 ---
---
---